PlagScan
Assessment
7th-12th Grade
Postsecondary
Canvas
Blackboard
Desire2Learn
Moodle
Sakai
Other
Schoology
Requires Consumer Key and Secret (click here to generate)
PlagScan Plagiarism Checker
Plagiarism checker for telling originality from copy&paste. Detects plagiarism in assignments from web pages as well as other students' work. Our software employs a highly advanced two-step algorithm based on the latest research in computer linguistics. PlagScan is a subscription based plagiarism checker. For a free test of the service go to PlagScan's homepage and register as an organization or contact our support team.
We have a brand new PlagScan PlugIn for Canvas LMS. This new PlugIn uses LTI2 and it includes a deeper integration with the Canvas Interface, advanced submission settings and better integration with SpeedGrader. We recommend you to use the new version. For more information please visit our PlagScan integration with Canvas.
In PlagScan Integrations page we have all the information about our integrations in case you might be interested.
PlagScan's Plagiarism Report
Here the 6 reasons why you should use PlagScan's Plagiarism Report to promote the growth of original writers and critical thinkers in your organization. ‍
Intuitive
The Plagiarism Level helps you to immediately identify the percentage of matched text in a document. A complete list of matched sources provides you with an overview of where the content of your document comes from.
Time-Efficient
Instead of spending hours manually searching on Google for suspicious content that you think was plagiarized and used in the received document, you can just upload one or more documents to PlagScan and check their authenticity. Detecting plagiarism will take just a few clicks.
Interactive
We highlight all the matches between the text in your document and all our sources, including web and internal sources. You can easily navigate the full report and jump from one matched section to the other. Every match can be inspected, deleted or adapted to reflect whether they are a forgotten citation or original content, and you can also add comments to them.
Collaborative
You can share the plagiarism reports with your students, giving them feedback on their work, as well as with other professors and assistants, allowing them to comment and collaborate with your final report analysis. Read more
Exportable
Work offline on your computer by exporting the plagiarism report as a Word or PDF document. Exported reports have all the features you need from online reports: They preserve the original formatting, have the plagiarism level, the complete source list, and a reference to each match.
Flexible
Extend the plagiarism comparison to other sources beyond the web by checking them also against your repository, where documents that you or your organization have already uploaded on PlagScan are available for cross-checking. You can also exclude websites or documents from being used as sources by whitelisting them. This way, the will not be used as sources, and therefore not shown as matches.
First steps of your evaluation of the plagiarism report
Have a first impression of you reports with the Plagiarism Level

The Plagiarism Level is the percentage of text within a document that is plagiarized, such function will assist you to indicate if a document requires or not a deeper investigation.
Identify different type of matches with colored highlighting

Reading and understanding the Plagiarism Report is intuitive and includes clear highlights in different colors, one for each purpose: red indicates you have matches, blue indicates you have potentially modified text, and green indicates proper citations.
Review the sources

Find all sources on a Source List, where matched websites or documents are categorized accordingly to indicate whether the source is a similitude from the web, from your previously submitted documents, from your organization repository or from the Plagiarism Prevention Pool. Every match is listed with reference to its sources, so that by clicking on it you can view your report side-by-side with the original source, jumping directly to the matched text, allowing you to make further decisions.
Use the "side-by-side" view to compare your document and it's matches at the same time.
Instead of dealing with multiple windows or tabs in the browser and having to switch back and forth to compare documents, you can now see matches and their corresponding sources in a side-by-side view. The checked document is on the left side and the source containing the match on the right side.
Comparing matched similarities in their original context often helps to decide whether plagiarism was intentional or not, and gives you a better perspective on how to grade the paper later on.

Each person reviews their papers differently. Some people like to analyse their sources by reading the full page without distractions, some others want to read the highlights in the document with the corresponding match and the side. We give you the flexibility to choose what is best for you.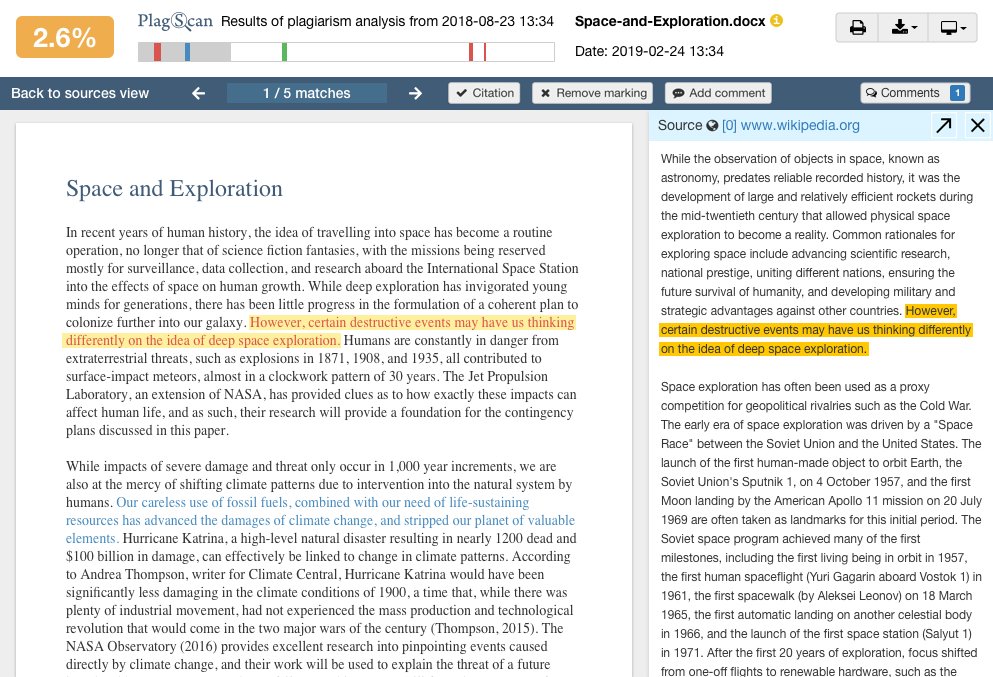 Administrator: Activate the App PlagScan
Login as an administrator. Go into the 'Site Admin' section. Click the 'Settings' tab on the left. Under the 'Apps' section, click the button titled 'Add New App'. Input a name for the App (e.g. 'PlagScan'). Select 'Configuration Type' to 'Paste XML'. Input your consumer key and shared secret. Input the XML and click 'Submit'.
Instructor: Activate PlagScan for a course
When creating or editing an existing assignment go to: Submission Type > External Tool and click in the field for External Tool URL. Subsequently a Pop-Up opens, where you should be able to select PlagScan and the URL https://www.plagscan.com/LTI/ is automatically inserted to the URL field. You should load PlagScan in a new tab. Save the assignment and launch PlagScan.
Please review the relevant accessibility documentation from PlagScan Accessibility Conformance Report in the following link: https://www.plagscan.com/resources/VPAT2-3Rev508.pdf)
This integration uses LTI, please review the relevant security/privacy policy in the LTI documentation: https://www.imsglobal.org/specs/ltiv1p1/implementation-guide It also used SSL-Encryption for secure data transit. Please review the relevant data protection/security information from PlagScan Data Protection in the following link: https://www.plagscan.com/en/data-protection
Please review the relevant privacy policy from PlagScan Privacy Policy in the following link: https://www.plagscan.com/en/terms-of-service-and-data-protection